Visual Brand Language – Not just a logo
What is Visual Brand Language?
Visual Brand Language, or VBL for short, is an aesthetic direction defined in line with your brand image and values that you want to communicate. Every product and service that you offer should follow this such that they become familiarly united, as opposed to separate entities with no visual connection to their brand.
Just like a good logo will work without colour, a good VBL will work without a logo.

Range of OX tools designed by Smallfry.
Why do you need one?
No longer an ideal, it's an expectation.
Well, that's simple. Without coherency and consistency across your brand's products and services, how will you gain recognition from your potential customers? How will you build a loyal relationship between brand and customer if your brand is not communicated at every touchpoint? A strong Visual Brand Language is no longer an ideal, it's an expectation.
Where should you apply it?
Your VBL needs the capacity to evolve.
Everywhere, on everything, every time. Do not restrict yourself to a 'language' that only works on physical products; the brand language that you create should be versatile enough that it can be applied to anything, from your products to your website, even to your customer service approach. The future will always be uncertain, so your VBL needs the capacity to evolve. The ideal is not to expire but grow with your business in whatever direction that may take you. With long lasting continuity you can gain generational recognition, trust and unconscious favourability.

Range of Dyson Upright Vacuum Cleaners from 2001 to 2017.
Who are the stakeholders?
Who are you marketing to? Your VBL ultimately should revolve around your stakeholders and what they want. People put themselves at the heart of their decisions- if your brand does not align with their personal image and values, they will not buy into it, nor your products. However, it is important to acknowledge that changing and tailoring your message to fit your audience is not the answer. A clear singular message that is universally appealing to all stakeholders maintains the consistency and thus the strength of your brand language.
Where to start?
The first step is to establish your position on a VBL matrix, one that sets you apart from your competitors and aligns with your brand values. Following this, brand guidelines can be defined, detailing CMF (colour, materials, finish), graphics and form specifications.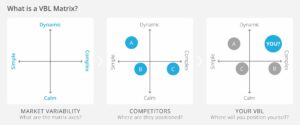 The superficial aesthetics of a product or service are often the most obvious form of branding. Colour is potentially the loudest instrument for consumers to recognise, however, should not be overutilised nor relied upon. Graphics go further than just a logo, your website, apps, interfaces, instruction manuals, any way in which you present information must communicate your brand. As previously stated, 'a good logo will work without colour, a good VBL will work without a logo'. This is not to say that a logo is not important, it too must follow and compliment the overall VBL such that once combined, a strong, unchallengeable brand image is presented.
A successful VBL can be recognised subconsciously.
The sign of a successful VBL is one that can be recognised subconsciously, achieved through form and materials, using both subtle and obvious features consistently across your range to create that sought-after family feel. This can induce a psychological gravitation or favourability that goes somewhat unnoticed and thus unchallenged by the customer. When visual brand language is implemented on a product or service correctly, its purpose is to make a statement, embody your brand, and pave the way for future success.
Smallfry are equipped with the knowledge and expertise to help you build a strong visual brand language and the strategic experience to make your vision a reality.